Lose weight, work out, eat healthier? We all make the same resolutions every year, but let's be honest: they never work out. So here are 10 goals that are good for you and that you will actually be able to achieve.
1. Talk to relatives more often
Blood is thicker than water. Family are the only people that will always be there for you – and that's why we sometimes forget that we also have to maintain these relationships and stay in contact with our relatives. Sure, everyone of us has these really weird family members that we really don't want to have anything to do with. But what about your grandma, who has always given you great food, lots of presents and great life advises? What about your older cousin, that has always babysitted and taken great care of you in your childhood? These are the relatives that deserve to get a sweet little phone call from time to time.
2. Reinvigorate old friendships
It can be refreshing to talk to people that you haven't seen in ages. You can talk about good old days, but they will also have new stuff to tell you and can even motivate you with what they have achieved. I know, it's not an easy step. Some people are afraid of the reaction they get when messaging people that they haven't talked to in a while. But think about yourself: You wouldn't find it stupid to get a nice message from an old friend or someone that you really liked in the past, right? You would be happy about it, it would be a nice surprise! So just do it, all it takes is a simple Facebook/WhatsApp message.
3. See the world
Of course, you can't travel the whole world in a year. But rome wasn't build in a day either, was it? Seeing the world is a great thing and a great resolution to put into action. Start with small steps: Make a list of countries that you have already been to. This will motivate you to see more. Then make a list with 5-6 countries that you want to visit next – and start with the first! If you are a poor student, travel to nearby countries first and look for specials offers of low-budget airlines like RyanAir and EasyJet. And even accomodation costs can be kept very low: Try out couchsurfing or look for cheap hostels at your destination. A weekend trip is all it takes to visit most European cities like London, Paris, Stockholm or Berlin.
4. Small gifts for the one(s) you love
Every relationship needs to be maintained or it'll fade away. That's why it is important to remind your beloved ones that you care about them. A nice and simple way to do so is to get them small gifts – maybe some tasty chocolate, a nice dinner or a postcard/souvenir from your travels. It doesn't take much to show people that you love and think about them.
5. Sleep more
Especially we students tend not to rate our health very high. But there's an easy way to improve it: Sleep! Being tired reduces the ability to concentrate and weakens your immune system, so it is actually really bad for you. Getting at least 7 hours of sleep every night will increase your health and you will have more energy and capacity. A good way to put this one into action is to set a routine of sleeping times, depending on your college/work situation: Try not to go to bed after a certain time (e.g. 1am). If you're just not tired by then, lie down, try to make yourself comfortable, listen to an audio book or some calming music and make yourself nice thoughts.
6. Save up some money
This is probably the hardest task! As students we don't really earn much money anyway, and it is more than easy to spend all of it on clothes, chinese food and alcohol. But think about times, when you really wished you had saved some money – for a weekend trip that your friends are planning, for a new smartphone when your old one fell into the toilet or for cosmetics of the new MAC collection that has only been released. And now think about your future-self, that will wish for some money and start putting some aside every month. Even if it's just 20 Euro, that'll be 240 Euro by the end of the year!
7. Be spontaneous
Too many people spend too much time planning, and when something unpredictable happens, they can't handle them. Yes, the unpredictable is a scary thing, but once you get yourself into it, it sometimes turns out to be quite fun and refreshing! Spontaneous night out with friends: Yes! Spontaneous trip to random city on the weekend: Yes! Spontaneous date with a guy on Tinder: Why not? Just say yes instead of worrying over what might go wrong.
8. Smile at people
Sometimes we walk through our lives without really noticing what's going on around us. There are so many strangers that we stand close to or sit next to in busses, trams, elevators every day. Why not start looking at them? Why not start noticing what's happening, what people are doing, what their story might be? Why not smile at people like the lady who serves you your coffee? Being attentive and observant is important in order to know what's happening around you, in your life, on this planet. So just do it: Notice your surrounding, look at people – smile at people!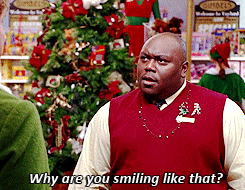 9. Go for walks
Okay, let's face it: Everyone needs a bit of exercise, it is actually healthy for us. But it doesn't have to be running (I hate running more than anything else) or going to the gym every day. According to experts the minimum of steps that one should take every day is 10.000 (around 6,5-8 km or 4-5 miles). Especially people who sit a lot (like students and office workers) are called upon to do this. And it is easier than you think: Walk small distances instead of taking the bus, take your dog for a longer walk than normally, go for small walks with friends/family/boyfriend/girlfriend in the evening. It's not that much of an effort, but will actually improve your health.
10. Don't leave plans undone
We all have them: to-do lists. They structure not only our work but also private lives. I have several myself: first priority tasks, long term projects, things I need to buy, money that I owe people/am owed by people, things I want to see and do. So my to-dos differ from cleaning apartment to doing readings for college, buying a new purse, applying for jobs, visiting Powerscourt, reminding my sister of giving me my money and so on. But as we all know, it is not a good feeling to have things on these lists undone. It puts you under stress and pressure to finally get them done, but when you don't have time or just don't want to work them off right now, it makes you feel bad and unproductive. That's why we should try to make them happen as soon as possible: Start now. Cause the longer they stand, the less likely it gets that we ever put them into action. And think of the amazing feeling, when you are finally able to tick a to-do off!
What are your new year's resolutions? Leave a comment!